AGV Motorcycle Helmets: AGV Blade Review
AGV is an Italian company that is well-known for making the motorcycle helmets worn by MotoGP World Champion, Valentino Rossi. AGV motorcycle helmets come in several types including racing helmets, motocross, modular, and open face helmets like the AGV Blade. While most motorcycle travelers will opt for a full-face helmet, I'll show you what makes the AGV Blade such a strong contender for a helmet you'd want to use on a long road trip.
The Rundown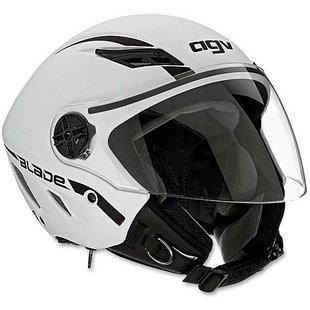 Product: AGV Blade Motorcycle Helmet
Price: $119.95
Pros: Inexpensive, comfortable and lightweight, simple quick-release buckle, very wide field of view
Cons: Noisy, airflow can be a problem in certain conditions
Average Rating: 9.0 / 10
Where to buy: Revzilla.com, Amazon.com
The Details
The AVG Blade's outer shell is made from an advanced ABS/polycarbonate. Its UV-resistant finish protects the graphics and paint job. The shell has two intake vents at the forehead that can easily be opened or closed while riding and additional ports in the back allowing for a good flow of air. The interior has a comfortable padding and a removable liner that can be washed. This includes the cheek pads and the neck roll. The chinstrap has a quick-release buckle that can be easily handled with gloves on and has a rubberized pad on it for added comfort.
The face shield is removable and you can change it for a tinted version if you'd like. The mounting system is very simple to use and changing face shields can be done without any tools. The right cheek flap has a D-ring through which you can loop a cable lock to keep your helmet secure on your bike.
What I liked
This helmet has many features to rave about but what I liked the most was the wide field of view. Out of all the helmets I've worn, this has been the one that let me see the most. The vision provided by this helmet makes it seem as though you weren't wearing anything. The crystal-clear face shield is very resistant and after riding thousands of miles in all sorts of conditions, it was still absolutely transparent. Given that the helmet is also very lightweight, it makes turning your head for quick traffic checks easy and strain-free.
Comfort is another benefit touted by many when it comes to this helmet. AGV really knows how to make a helmet that fits well and can be used for hours at a time. The interior is well-cushioned and the fact that the chinstrap wraps over the outside of the cheek flaps instead of being in direct contact with the contour of your face makes it much more pleasant to wear. The soft, adjustable chin guard is a really nice touch too. The quick-release buckle makes it incredibly easy to remove the helmet and it can be operated with one hand, even when wearing winter gloves. Buckling back in takes a bit of getting used to but the anchored buckle helps you locate it quickly without any fuss.
Just because it's an open face helmet doesn't mean you can't use it in cold weather. Equipped with a good face mask and scarf and you can take it through a blizzard. When faced with very cold conditions, you can remove the internal liner and use it with a beanie. The fit will be tighter but your head will keep warm.
What I didn't like
One of the major issues with the AGV Blade, and most open face helmets, is that of noise. Since your head isn't completely wrapped the air currents will generate wind turbulence or whistling noises. This is something that can be easily resolved by using adequate foam ear plugs or in-ear headphones. Just make sure that what you do use doesn't completely block out ambient noise as you'll want to hear sirens, horns, and other important sounds on the road.
Another issue with the AGV Blade is that of airflow. Don't get me wrong, the helmet has superb airflow that will keep your head well-ventilated. The issue lies when you're traveling at high speeds, sometimes you'll have drafts that creep under the face shield. This can be resolved by adjusting your head's angle but it might not be a comfortable long-term solution. A better solution to this would be to get a windshield for your bike, but even if you don't have one it isn't a dealbreaker.
People with long faces will also need to protect their mouths with a scarf or a face mask as the face shield only goes down so far. Wearing a bulky scarf around the bottom of your face can also cause some airflow issues as the excess fabric can change the way the air flows inside the helmet, but this is also easily resolved by adjusting how you wrap your face. Just find a way that keeps the air flowing the way you want it while keeping your mouth protected.
Final Thoughts
As you can see, the points against this helmet shouldn't be anything that deters you from getting one. Having a helmet like this one really allows you to connect with your surroundings as it doesn't feel like you're separated from it. I have yet to hear from anyone who says that they found this helmet uncomfortable or cumbersome. To top it all off, the AGV Blade's design is gorgeous. It's hard to find such a stylish helmet at this price point.
For those wondering whether they can attach communications devices, some riders report that they were successful in attaching certain devices like the Sena SMH5-FM Bluetooth Headset without any problems.
Right now, you can find these helmets at Revzilla and Amazon. Be aware that the pictures on the Amazon link show that it includes an additional sun visor but customers claim that the received product didn't include this. If you want a fancier design you can also spring for the AGV Blade Tab and the AGV Blade FX. Both of these have the exact same characteristics but feature cooler designs. Click on the images below to check them out in more detail.


Do you have the AGV Blade as part of your helmet collection? Let us know your thoughts on this awesome helmet!