AGV Motorcycle Helmets: AGV K3 Helmet Review
We've already reviewed the fantastic AGV Blade Helmet by Italian helmet manufacturer AGV. Now it's time to take a look at one their more accessible full-face helmets
The Rundown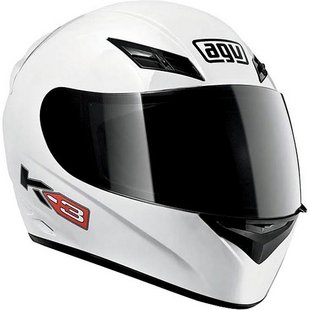 Product: AGV K3 Helmet
Price: $169.95 – $219.95
Pros: Top-level helmet at entry-level price, excellent ventilation, comfortable and lightweight
Cons: Chin flap is easy to lose, fogs up in cold weather, tighter fit in larger sizes
Average Rating: 8.5 / 10
Where to buy: Revzilla.com, Amazon.com
The Details
The AGV K3 is a more recent addition to AGV's line of motorcycle helmets. It draws inspiration from the company's other models and incorporates some of the manufacturing techniques used in their more advanced helmets, making this a sort of "evolution" in their helmet design.
The helmet's exterior is coated with a "Painted HIR-TH (High Resistant Thermoplastic)" resin, making it quite scratch resistant. In terms of design, this means that the cool graphics on the more vibrant models of the K3 are actually painted as opposed to being decals like those found on cheaper helmets. Apart from the solid colors, you can pick this helmet up in a variety of fun and colorful graphic designs, including the same design used by MotoGP World Champ, Valentino Rossi. Read all the way to the end to check them all out.
The interior is lined with a Dry-Lex hygienically treated fabric. This liner is removable and washable. The fastening system is a Double-D Ring that also serves as a security mechanism for chaining the helmet to your bike when not in use.
The shield has a perimetrical seal that prevents water from leaking in and the shield mount has an Extra Quick Release System. This makes shield replacement incredibly easy and is even faster than the already dead-simple system on the AGV Blade.
Lastly, there are air intakes in the forehead, mouth, and extractors at the rear. The vents feature covers that seal the intakes when closed preventing water from entering. The latches are easily handled with gloved hands.
The Good
The best aspect reported by users of this helmet is that you essentially get a pro-level helmet for the price of an entry-level. AGV puts great care in their products and it shows again in the K3. The fact that you can get this helmet with the same designs as the GP-tech lines and the Valentino Rossi replicas just make the offer that much sweeter for people looking for a colorful racing-style helmet.
Another feature consistently praised on this model is airflow, particularly the placement of the mouth vent, which allows a good deal of airflow to reach the rider's face. The openings on the top also provide a good amount of air flowing over the top of the head before exiting through the back ports. The vents seal tightly when closed preventing water from entering. This is positively one of the best-ventilated helmets available.
The K3 also does a great job of significantly lowering noise levels, although many report that this could have been improved by adding more padding on the neck roll. In any case, it is something that is easily solved.
Finally, comfort is on par with other AGV helmets and users report very comfortable fits with minimal helmet jitter when traveling at high speeds. The fact that it is incredibly lightweight just helps with the comfort rating.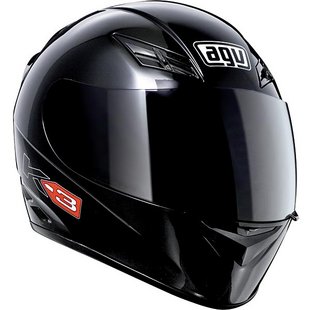 The Not So Good
The AGV K3 has a piece of fabric webbing just under the chin that nearly everyone reports coming loose or completely falling out. The purpose of this piece of fabric is unclear but it is annoying to many. Of course, you could always opt to remove it yourself as it simply detaches from the bottom of the chin guard.
The liner on this helmet is the same for all sizes. This makes getting a replacement easy but it also means that ordering a smaller size will feel like you have more padding than those getting a larger sized helmet. A few people wearing large and extra-large sizes report feeling slight bumps where liner fasteners go. Keep this in mind if you have a larger head like me.
One final issue is that although ventilation is fantastic on this helmet, it suffers from a fogging issue in cold weather when the shield is closed all the way. Fortunately, the shield has five fixed positions you can put it in, and even if you don't want it open at all, you can defog it very quickly by lifting the shield for just a moment. Some report that fogging was less of an issue when using the Smoke-tinted shield (sold separately).
Final Thoughts
In terms of bang for your buck, the AGV K3 helmet is an outstanding option. It has all the makings of a top of the line helmet at a fantastic price. Some who bought this helmet as a secondary passenger helmet ultimately adopted it as their primary.
If you're looking for a daily use helmet then you don't need to look further. However, for those of use with really big heads it might be better to look for a different model, especially when looking for a touring helmet that you'll have to wear for hours on end. For all of you with more normal-sized heads, the noise protection, minimal weight, and awesome ventilation make this helmet a great choice for a lid to take around the world.
Right now, you can find these helmets at Revzilla and Amazon. Besides the basic black and white solid colors you can get any of these colorful designs. Just click on the images to go check them out.


Do you already own the AGV K3 as part of your helmet collection? Let us know your thoughts on this great full face helmet!