Fieldsheer Motorcycle Jackets: Fieldsheer Drifter Jacket
Fieldsheer is a long-time manufacturer of quality motorcycle clothing. All Fieldsheer motorcycle jackets, pants, and gloves, for both men and women, are made with solid materials and quality craftsmanship. Today we'll be looking at the durable and stylish Fieldsheer Drifter Jacket (now re-branded as the Pokerun Drifter 2.0 Jacket).
The Rundown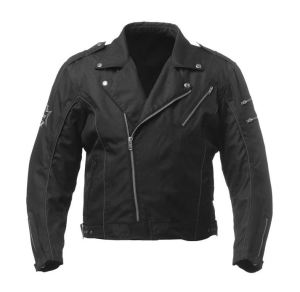 Product: Fieldsheer/Pokerun Drifter 2.0 Jacket
Price: $127.99 – $143.99
Pros: Removable full-sleeve liner, comfortable, lightweight, 100% waterproof, tons of pockets
Cons: Liner sleeves are hard to attach/detach, ventilation could be improved, doesn't include armor
Average Rating: 8.0 / 10
Where to buy: Revzilla.com (lowest price), Amazon.com
The Details
The Drifter 2.0 Jacket's outer shell is made from 600D Carbolex. It is waterproof and breathable. It sports air sleeves in the armpits and back for ventilation. It has a full-sleeved removable quilted liner that provides added warmth for cold weather and Phosolite reflective piping for increased nighttime visibility. The jacket itself has internal slots for CE-approved armor (not included) and pockets on the front, chest, and even on the removable liner.
What I liked
The first thing that drew me to this jacket was classic cruiser style. I wanted something that resembled a leather jacket but was lighter and less expensive. At $128, this jacket is significantly cheaper than its leather counterpart.
The style allows for two basic positions: halfway V-zip and fully zipped. When the lapels are buttoned down, you can only zip up to your chest, giving it that classic cruiser look. If conditions worsen, you can unbutton the lapels and and collar and zip all the way up, keeping dirt and rain out. The jacket is completely waterproof. I rode through a heavy downpour and remained dry. It may seem as though water could leak in through the neck but since the jacket overlaps on itself when completely closed, it keeps you sealed very well.
The removable liner is another great feature that makes this jacket an all-weather article of clothing. With the liner on it can keep you warm in colder temperatures while removing it and opening the vents in the arms and back will keep you fresh in warmer climates. The back vents have longer pulltabs making them easier to open and close even while riding. The internal liner also has a pocket so when you slip it on, you'll still have an inside pocket available to you.
This thing also has plenty of pockets without looking like some sort of cargo jacket. It has two hand-warmer pockets in the front, a slanted chest pocket, one zippered pocket on the left arm, as well as internal cargo pockets. If you have anything that you want to get wet, like a phone, I wouldn't keep it in the arm or chest pockets if you think you might come across rain, as some drops might make their way in.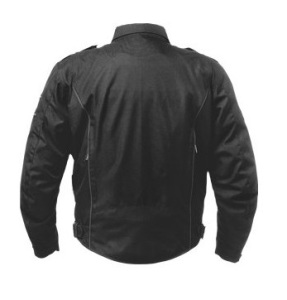 One issue with motorcycle jackets that most people might not consider is air creeping up the back. Sure it feels nice in hotter climates but when you're riding through freezing weather you want to keep insulated. This jacket has a bit of a longer tail which does a pretty good job of keeping the wind out but it also gives you the option to zip it up to your touring pants if they have the matching zipper line. The zippered tab  is connected to a stretchy piece of fabric so it gives you some slack and doesn't feel restrictive when connected. It only zips up in the back so it makes attaching and detaching easy for when you want to take it off.
Is it durable? You bet! I took a couple of high-speed tumbles while riding on dirt roads and neither I nor the jacket suffered a scratch. During the entire time I owned it, it never showed signs of wearing.
What I didn't like
As great as the removable liner and air vents are, the Drifter 2.0 Jacket could use some better air flow. If you live in an area where it is constantly hot, this might not be the ideal jacket but if you like to ride in hot and cold weather then it's definitely worth considering if you only want to buy one jacket.
One issue that I consistently ran into was when I had to remove or reattach the quilted liner. I initially thought that the sleeves were only secured with Velcro but in fact, they have little loops that they're fastened to. If you try to remove it by force without realizing this you might rip the liner's sleeve. Getting to hook it in again is also complicated as you can't see what you're doing. This is just a problem that comes with having the benefit of a full-sleeve liner.
The other complaint that other buyers have is that is only includes a special type of memory foam as protection and doesn't come with actual armor, but at only $128 you can't really expect it to include that. One minor gripe I had with the hand warmer pockets is that the metal zippers on the lips would sometimes scratch my hands. It's not like you're going to rip your hands to shreds or anything, but if you have big hands it's worth knowing.
Lastly, people report that the jacket runs a little on the large side. I typically wear a Large  and I noticed that it was indeed a bit bigger than I needed it, but since I knew I'd be traveling in colder weather, the extra space was useful when throwing on an extra sweater underneath. That's why it looks a bit oversized on me. On average, people seem happy ordering one size down from what the sizing charts say.
Final Thoughts
While it seems like it has quite a few points against it I still love this jacket. It's warm, comfortable, waterproof, and to top it off: really stylish. Prepare to get complimented while wearing it. As a touring jacket, it's awesome. The versatility provided by the removable long-sleeve liner and the V-zip design enables you to wear it in virtually any environment. While it's true that there are jackets out there that provide better air circulation in hot weather, I rode in this jacket through deserts and jungles without complaining too much. While you will be breaking a sweat when riding in tropical conditions you also need to remember that you're riding a motorcycle through the jungle and not sightseeing in an air-conditioned van.
As an added bonus, when you order the Fieldsheer/Pokerun Drifter 2.0 Jacket, you also get a large and sturdy hanger so that it helps keep its shape. You don't want to hang this baby on a wire hanger.
You may ask yourself if wearing this jacket is still classy enough to knock back a few drinks with some penguins. Why yes, sir. Yes it is.
Have any questions about the Fieldsheer/Pokerun Drifter 2.0 Jacket? Leave it in the comments and I'll get back to you.