Hi! My name is Luis and I have been involved in motorcycle travel since 2009.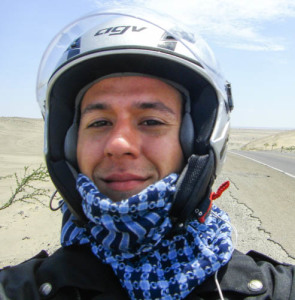 At the time I was looking to buy a car in order to make my long daily commute to work more tolerable but somewhere along the way I decided that a motorcycle would be the best option to beat traffic and have fun. A few months after riding my motorcycle daily to and from work, a friend of mine suggested to take a short weekend trip to a nearby town on our bikes. This small weekend adventure was what triggered my love for motorcycle travel and adventures. I will ill-prepared for that short trip but it taught me important lessons on what accessories are needed to make a motorcycle trip comfortable, enjoyable, and most importantly: safe.
Since then, I've embarked on other motorcycle journeys that have taken me around South America and South East Asia. I've learned a lot about what gear is important to ensure a good ride and feel safe. Initially, I spent long weeks researching what the best helmets and jackets were, only to discover that certain items were not exactly as advertised. There are so many products out there that it's hard to sort through the stuff that's not worth your time and money, so I decided to create a site that would help fellow moto adventurers and people looking to get started in this amazing method of travel and discovering new places.
If you'd like to share the experiences that you've had with any of the products featured on this site, please leave a comment. Likewise, if you have any questions, I would encourage you to ask away through the contact form below and I'll be happy to get back to you. I'm always up to chat with anyone looking to embark on a new motorcycle journey. If you haven't had the pleasure of doing so yet, I can assure you that it's life-changing.
Ride on!
Luis T.