Touring South America: Marathon Sessions
Chapter 12: April 9th, Valparaiso, Chile.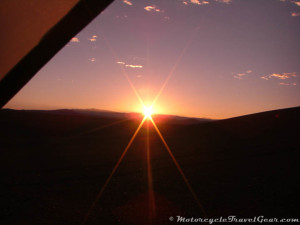 When I awoke there were still stars out but the sky wasn't black anymore. It was a deep shade of blue. The sun was coming.
I changed and just as I was putting my things away, a ray of light spilled over from behind remote desert dunes. It came just in time to bring a little warmth to the cold emptiness of the desert.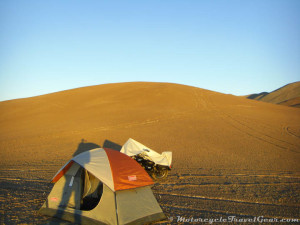 I packed up the tent, loaded everything back on the bike, and walked up the hill that had served as my cover to get a glimpse of my surroundings. It truly was the middle of nowhere and I was immensely proud of it. Despite all the cruel tricks my imagination had played on me, it had been a quiet and peaceful night. I was restored.

Coming down from the hill was another challenge. Going up had been difficult because there was very little traction to move forward. Going down was complicated because the handlebar had very little influence on which way the bike steered. It was rolling downhill where it wanted and all I could do was try to maintain balance. By the time I got to the side of the highway I was sweating profusely. It was the first sweat I had broken in the desert.
I rolled onto the asphalt and not more than five kilometers ahead was the gas station I had been told of. After filling up the tank, I stormed off towards La Serena. I was determined to get there that day no matter what. It was 8:30am and I was just starting to chip away at the 700km that separated me from that day's destination.
The sun was beating down on me but it felt very cold. I thought that holding off for another half hour would let things get warmed up but the temperature didn't change at all and I was starting to shiver. I had officially crossed the latitude where I'd need an extra layer of clothing. I attached the jacket and pants liners and put them back on. It was a huge difference. The only persisting issue was the cold I felt on my hands. It was time to exchange the cloth gloves that I had been wearing up until then for some that actually offered any protection from the wind, cold, and bugs or rocks that occasionally hit my fingers.
Hours went by and I was feeling happy with the ground covered. The whole day's trip felt so pleasant that I hadn't even realized what time it was. When I pulled over to get something to eat I saw that it was 3pm. There was still a long way to go. When I finally pulled into La Serena, it was 6:15pm. I went to the hostel that had been recommended to me but it was full. As I was leaving to find another place, Andres, the kid that was working there, told me that a close friend of his had another guesthouse close by. I waited around for a bit while Andres's mother treated me to a cup of tea and we talked about life in Latin America, politics, and natural disasters (Chile had recently suffered a major earthquake along its entire coast).
I eventually left to go to the other place and take a shower but I told the woman I'd be back to pick up our conversation. Unfortunately, I wasn't able to keep my word. As soon as I got out of the shower the cumulative fatigue of riding for 10 straight hours hit me all at once and I fell asleep. The only thing that managed to wake me up was a tremor that shook the entire house at 6:30am. I entertained the thought of running outside but the bed stopped shaking after a bit and it was much too cold outside. I kept sleeping.
I left a bit late the next morning. I had been waiting for confirmation of where I was meant to be staying in Valparaiso. Would I end up at another hostel or was I going to get lucky and have a family friend lend me their apartment? I wound up being the hostel since the friend's apartment was not in habitable conditions due to the earthquake.
Before hitting the road I stuffed my gloves with newspaper in a desperate attempt to keep the cold out. It worked rather well. The insulation it provided was decent and it didn't limit my fingers' movements. It was a huge relief that it ended up working out since I'd have to ride for 7 hours that day covering almost 500km. Even though it was quite a distance to cover, the highway was in perfect conditions and it made for a very smooth ride. Coming down from some hills I was able to reach speeds that the bike could barely handle. It didn't even register on the speedometer.
The surrounding landscape was also changing. I had left behind that arid Atacama Desert and I was slowly but surely starting to see signs of wildlife. At first it was just a few bushes sprinkled throughout the hills. Later, they became more dense and got greener as well. Further down south, tall grass began to grow between the bushes where before there had been nothing but dirt and rocks. Then, at last, the shrubbery gave way to trees that were home to all sorts of bugs judging from the tiny corpses I had to clean off my visor.
Among other interesting things that this stretch of road had to offer were: two enormous wind farms, a lonely observatory sitting at the top of a hill in the distance, and a beautiful blanket of mist rolling down a mountain like a giant tsunami about to obliterate the valley below.
Nightfall caught up with me as I rolled past Viña del Mar and entered Valparaiso. Navigating the streets here was much more complicated than what the map portrayed. The whole city was built on very steep hills and when I finally reached the road that the hostel was supposed to be on, I kept climbing up until I reached a point where it was impossible to keep going. In fact, the street that I had ridden up wasn't even designed for vehicles. It was actually a really steep footpath. It's a miracle my motorcycle made it up but the struggle hadn't ended. I was starting to slide down the hill and the wheels were spinning in place. I was being dragged down.
I still don't know how I managed to turn around and go down without taking a hard tumble. It would have been really bad. A couple of older women that were chatting in front of their houses stared wide-eyed as I descended from that non-street. Their amazement must have been equal parts I don't know how he made it back in one piece and I can't believe that idiot didn't realize that's not a street.