Great Motorcycle Movies: The Motorcycle Diaries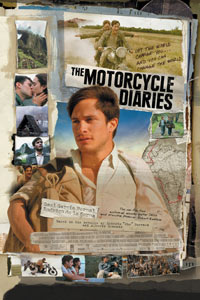 Welcome to the first edition of Great Motorcycle Movies. Along with our Great Motorcycle Rides series, it is written with the hopes to inspire you to get your motorcycle and ride it towards adventure.
We'll start off by taking a look at one of my favorite movies: The Motorcycle Diaries. Aside from being a spectacular film in its own right, this is the one that inspired me to head out on my first international motorcycle trip. The film is spectacularly shot and the remote settings will evoke feelings of nostalgia for seasoned adventurers, and longing for those who have yet to experience the road.
The film is an adaption of the journal written by Ernesto Guevara in his early twenties, well before he became the revolutionary "Che" Guevara. It centers around the motorcycle trip he took in 1952 with his close friend, Alberto Granados. It started in Buenos Aires, Argentina and led them through the vast Patagonia, Chile, Peru, and into Venezuela. Most of it was done riding two-up on a 1939 Norton called "La Poderosa" (The Mighty One).  It isn't only an amazing road trip movie but it also shows  the internal growth experienced by the protagonists as they witness the social inequalities across Latin America and the real struggles of people outside their comfortable and sheltered lives. This becomes the starting point for "Che's" revolutionary ideology which later led to the Cuban Revolution.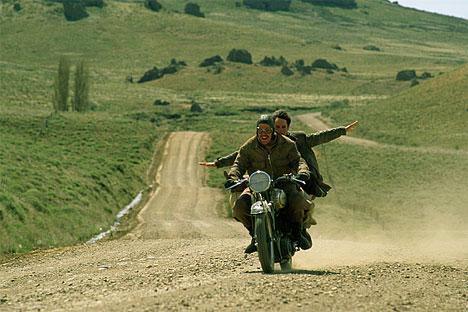 The use of untrained locals as actors in some scenes gives it a very raw feeling and an almost documentary-like quality which helps ground the story as a real life event. This is part of what makes the film so inspirational: it feels like an experience that can achieved by anyone. It isn't some crazy fantasy.
The visuals in the film are magnificent and show very accurately what a journey through South America looks like, even to this day. I dare you to watch this film and not feel the desire to retrace the same route taken by Ernesto and Alberto. The whole experience is enhanced by the superb soundtrack composed by Gustavo Santaolalla, which itself makes for inspirational road trip music. It's no wonder that the film earned an Oscar for best Original Song (Jorge Drexler's "Al Otro Lado del Río"). The trailer here should be enough to convince you to watch this movie if you haven't already, and if you have it'll make you want to watch it again.
You can purchase The Motorcycle Diaries on Blu-ray or DVD, or watch it instantly on Amazon Instant Video.