Alpinestars Motorcycle Jackets: Alpinestars Durban Gore-Tex Jacket
I previously wrote about some of the innovative new features that Alpinestars was bringing into their jacket lines. While we patiently wait for the release of their awesome integrated airbag system, we'll take a look at one of their latest and best touring jackets: the Alpinestars Durban Gore-Tex Jacket. They're known for making some of the best riding gear out there, both in terms of comfort and protection and in their latest offering, they don't disappoint.
The Rundown
Product: Alpinestars Durban Gore-Tex Jacket
Price: $399.99 – $699.95
Pros: Fully waterproof and breathable, very comfortable, top-notch durability and safety, included armor, modular.
Cons: Only one color option, expensive.
Average Rating: 9.4 / 10
Where to buy: Revzilla.com (lowest average price), Amazon.com (lowest price for size 50 US)
The Details
This jacket's shell is made of a multifabric material and is built with lightweight polyamide inserts. It also has patented Superfabric reinforcements that provide 5 times more abrasion protection than leather at only half the weight. Zippered air vents abound on this jacket and you can find intakes on the shoulders, arms, chest, and cuffs, as well as exhausts on the rear shoulders and back. The elbow has room for stretching which facilitates a comfortable riding position and the entire sleeves are detachable.
The Gore-Tex construction makes it 100% waterproof and also gives it the highest level of breathability of any jacket. It has a large removable utility pocket in the back (a sort of big fanny pack), high-visibility strips all over, and an internal zipper that attaches to its matching pair of Alpinestars Durban Gore-Tex Pants. Finally, on top of the countless pockets, it has a removable liner, integrated shoulder armor, removable elbow armor, and the possibility to connect it to the Bionic Neck Support (BNS) system for hardcore offroading.
The Good
If you could only buy one touring outfit in your life this would be it. The Gore-Tex material gives it an edge over all the other types of jackets in terms of waterproofing and breathability. You won't be feeling clammy while zipped up in this jacket. The amount of vents present also exceed most other jackets available in the market. It has superb airflow making this the perfect jacket for year-round riding in any condition. The internal Gore-Tex liner is lightweight and also 100% waterproof and can be worn separately in its own right.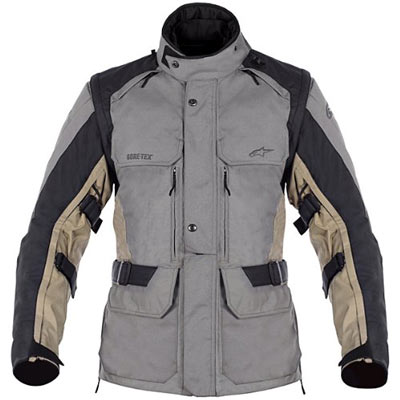 In terms of safety, the Durban Jacket has all angles covered. While it seems like it won't be compatible with Alpinestars future airbag technology, it already features shoulder and elbow armor that surpass all safety standards, as well as space for an internal back and chest armor, and connection points for the BNS system. The Superfabric that covers essential contact points in the event of an accident do a fantastic job of keeping your skin on your body. Superfabric is essentially an array of microscopic ceramic scales that are heat and abrasion resistant.
Every rider reports the fit being good and very comfortable. Despite the fact that it looks like a bulky jacket, it has a slim feel to it and is surprisingly lightweight. After breaking it in for a few days, riders state that it feels like wearing a sweatshirt and not a big stiff touring jacket.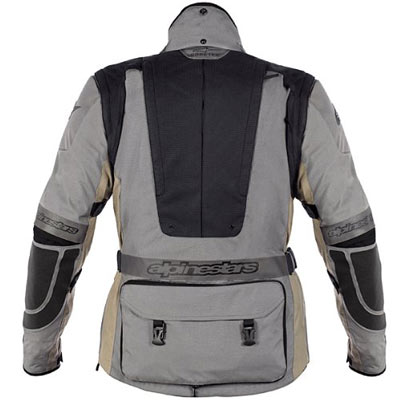 The Not So Good
There are only two major gripes with this jacket. One is that the included back protector does not feel up to par with the quality of the rest of the jacket. For added protection it's recommended to shell out a bit more for a decent back armor like the Bionic Back Protector also from Alpinestars.
The other "major" issue is that it only comes in the sand/black color you see here. While color choice may not be the most important thing to consider when getting a good touring jacket, a jacket as versatile as this one, that can be used daily in urban and suburban environments, should have a bit of variety. Also, it's on the pricey side of touring jackets but you are getting more than what you pay for with this one.
Final Thoughts
The Alpinestars Durban Gore-Tex Jacket should be the jacket that all other companies aspire to make. It's incredibly durable and comfortable, all while avoiding heading into the territory of heavy and bulky touring jackets. In combination with the matching Durban Pants, you have the last riding outfit you'll ever need.
https://www.youtube.com/watch?v=cgkE0TvnFp8
A word on sizing. Since this jacket offers a snug fit, other riders suggest buying one size up if you plan to be wearing an extra layer underneath, although it won't be necessary unless you plan to venture into sub-zero territory. If you're going to be riding in mainly warmer climates, you probably won't even be riding with the liner.
Right now the cheapest place to get your hands on one of these is Revzilla at $559.96. For a limited time you can get a size 50 US (60 Euro) at Amazon for only $399.99, but I'd recommend you use Revzilla's Price Match guarantee to get the discounted rate. What are you waiting for?
Have any questions about the Alpinestars Durban Jacket? Leave it in the comments and I'll get back to you.