Touring South America: Crossing the Andes
Chapter 14: April 14th, Andes Mountain Crossing, Argentina.
To leave Santiago at rush hour is not something I'd recommend, especially if you're in a residential area and have to weave through an entire city's worth of cars trying to get to their jobs. I left my aunt's house at 8am but it wasn't until an hour later that I was getting on the highway. I also briefly lost my way because I failed to read some signs properly and ended up having to take a detour through the Ciudad Empresarial, a large business complex housing major companies. All the drivers coming in looked very confused while they stared a motorcycle loaded with camping gear riding through their posh parking lot.
Further north towards the Andes, there were several points on the highway where there were still repairs being done because of the quake. Detours had been built around crumbling bridges and fallen pedestrian walkways. I sped past these parts determined to reach one of the roads that I had most anticipated on the trip.
When I reached the foothills of the Andes I pulled over at a spot that immediately made all the effort put into making this journey worth it. For several months at my former desk job, my background image was a motivational poster reminding me why I was working there. Now I found myself staring at the real life version of the image I had been looking at day after day. It was a feeling like no other. At first you don't realize what's happening but you feel like something is out of place. Then, slowly, the bits and pieces of the image you had in your head start coming together and you're left breathless. In that precise moment you realize you're living your dream.
The new gloves were combating the cold spectacularly. The only inconvenience was that since they were still new, the material was stiff, making it harder to use the clutch, brake, and accelerator. It was starting to cause fatigue in my hands but there was nothing to be done about it. I just had to bear the pain until either the gloves loosened up or my hands became used to the extra effort. In any case, it was better than having frozen fingers.
I went up and down the sinuous road, surrounded by green hills and a river that flowed at the bottom of a cliff. It was a beautiful scenery.
Some more kilometers ahead I reached the base of the famous "caracol" and its almost 40 switchbacks. There were hardly any trucks on the road, either going up or down, so I had the absolute pleasure of riding up the winding road without caution. Hard right lean, hard left lean, hard right lean, hard left lean… and that's how I enjoyed the fresh mountain air and the bright sunshine that was keeping the temperature at a tolerable degree.
The good times were interrupted by a long line of cars and trucks waiting for the road to open. The path was under maintenance so there was only one open lane and we were all waiting for the vehicles that were descending to come down before we were all allowed to proceed. It was an inexplicably long wait. I sat there for 40 minutes and I'm sure the cars closer to the start had been there for at least two hours.

Once we were finally allowed through and after going over dirt, rocks, and mud, we arrived at the Cristo Redentor Tunnel which had the boundary of Chile and Argentina in its halfway point. I had finally reached Argentine territory. I passed the first police checkpoint and stopped for lunch at a roadside diner. In there I set my watch to the local time and had the strangest conversation with resident of the area about the lack of unity between people on the planet, and about shy aliens.
Immigration was a few more kilometers down the road and the process was quick and painless. I was especially happy to not have had to unpack everything so that the customs agents could go through my stuff. Other people didn't have such luck. One woman was apparently trying to make her way through with five sacks of contraband goods. Just another day at the Pase del Libertador.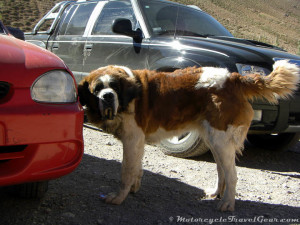 Outside the immigration building there were rocky formations on the tops of mountains that I had never seen before. They weren't running uniformly along the ridges as you'd expect. Each peak was different. Some looked like tabletops rising from nowhere, others resembled rusty needles poking through in a thousand directions, and others were simply enormous smooth stones jutting out diagonally. The backdrop to all this crazy geography was the peak of the majestic Mt. Aconcagua. Everything around here made you feel really small.
On the way down I also passed the Bridge of the Incas, a natural formation used by the Inca people to cross the river that ran through the area. Later still I passed the lake in Potrerillos which turned out to be an expected yet beautiful view. For a second I thought I had reached the ocean as I had become accustomed to seeing it while riding down the Pacific Coast. The lack of waves and its intense blue color (as well as the surrounding mountains) suggested that it was a lake. It looked like another great place to spend a few days.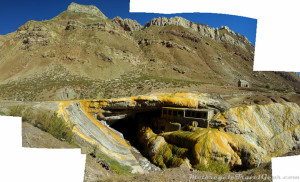 Shortly thereafter, the rocks turned into trees and the mountains into vineyards. The unmistakable aroma of grapes and wine filled the air and I knew I had reached my destination. The signs that this was an area of great wine industries was everywhere. Nearly every shop was somehow wine-related. Trucks hauling grapes would leave a slippery coat on the road from the grape juice that inevitably spilled from time to time. One of them had flipped over on an exit ramp and left a trail of grape debris in its wake. The resulting smell was intoxicating. Mendoza awaited with open arms.