Dowco Motorcycle Covers Review: Keeping Your Bike Shiny
The Rundown
Product: Dowco Guardian WeatherAll Plus Motorcycle Covers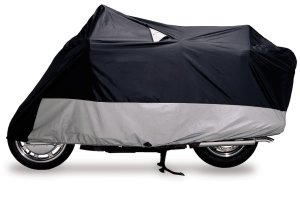 Price: $59.77 – $115.99
Pros: Extremely durable and waterproof, heat shields let you cover the bike right after use, high quality materials, lifetime warranty
Cons: Sizing may be a little off
Average Rating: 9.4 / 10
Where to buy: Amazon.com, Revzilla.com
Why are motorcycle covers important?
Motorcycle covers aren't just a good idea to have at home if you want to keep your bike safely sheltered from the elements. When traveling through all sorts of terrain and weather, it'll help protect it from unforeseen conditions like desert sandstorms, salty ocean spray, and even seagull poop. They aren't the most essential motorcycle accessory you can get but having a good cover will keep your motorcycle looking good for much longer.
I learned the hard way that having a special motorcycle cover is worth the investment. You might think to yourself, "aren't all motorcycle covers just sheets of plastic you toss over your bike?" I certainly thought so, and that's exactly what I used to cover my bike during one of my first trips. Let's just say that all those unforeseen conditions I mentioned before had their turn to beat on my bike.
Most motorcycle covers you can find online will be around $30 and they'll work well for a while, but after a few months they'll wear down and you'll likely have to buy a new one every so often. That's bad for the planet and bad for your wallet.
Having researched many motorcycle covers, everything points to the Dowco Guardian WeatherAll Plus Series as being the best for storing your bike and for keeping it shiny while traveling.
What makes it special?
Dowco uses specially treated heavy-duty polyester for their covers. They're not the only ones that do this but the construction of their covers seems to be of higher quality than others. The seams are heat-sealed and a lot more sturdy. Their cover system also has special vents to prevent the accumulation of moisture under the cover. Another fantastic feature of the Guardian series is that they come with an aluminized heat-shielded area that covers the engine block and exhaust pipe. The heat shield prevents the cover from melting or suffering heat damage, meaning that you can cover up your bike as soon as you park it.
User reviews have this cover as being the most waterproof. This isn't to say that the cover will hold its weatherproofing capabilities forever. This does get worn down slightly over time but a quick spray of ScotchGard Water Repellent and it'll be good as new. Here are a few things that people love about it:
Not having to wait for the tail pipe to cool down to put the cover on.
It fits snugly and the "belly strap" helps keep it on the bike with even the strongest winds.
Interior liner protects windshield, paint and chrome.
It has sewn-in grommets through which you can loop a lock to keep it secure.
Lifetime warranty. They'll replace it if you notice any issues at all.
Very few people report some fraying around the elastic at the bottom but it doesn't tear or fall apart. The elastic still holds strong. Those that did have a bigger issue had their cover replaced very easily with the warranty. One thing to keep in mind when ordering your cover is that many people reported their covers being a size too small, so buy one size larger than the chart. If you want to use the cover on a motorcycle with panniers or saddlebags, go up two sizes. While Amazon has better prices right now, Revzilla has a much easier process for finding the right-sized cover. I wouldn't trust Amazon's sizing chart. It consistently tells me that even the largest covers won't fit the motorcycle I select.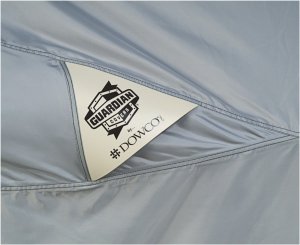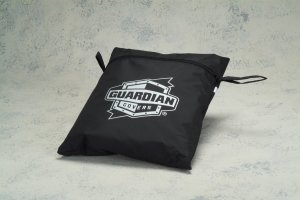 Final words
There's a reason this cover is so highly-rated everywhere. Hardly anybody has any complaints against it. While the price tag is higher than other motorcycle covers out there, consider that this one will last 5 times longer and provide better protection. As an added bonus, the cover is compatible with the Guardian Alarm. This device slips into the pocket and attaches a lanyard to your bike so when the cover is removed a loud alarm will go off. While it won't completely stop a theft at least you'll know that the criminal went deaf.
For those looking for a little extra convenience, Dowco also has the Guardian WeatherAll Plus EZ Zip model that has a zippered back, allowing for an even easier mounting process. This also allows you to have access to your panniers or saddlebags without having to remove the cover.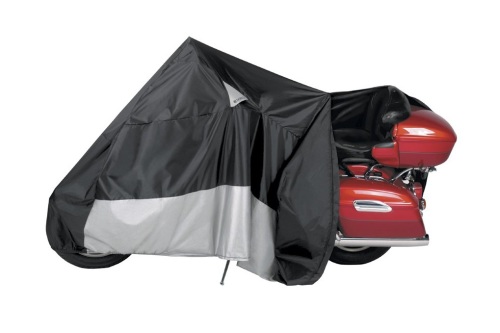 Pro-Tip for the Budget Traveler
Getting an expensive motorcycle cover might not seem like that most budget-friendly decision but if you don't have weatherproof luggage yet, the cover can double as a rainguard for your duffel bag and you can attach it to the back of your bike with a good and cheap cargo net. A little ghetto? Maybe, but it worked for me during a 3-month trip.