Magnetic Tank Bags for Motorcycles, The Best You Can Buy
Tank bags are one of the most useful articles you'll have when taking your motorcycle on the road and magnetic tank bags take the cake when it comes to mounting ease. They'll help you keep your loose and important items handy, and having that clear map pouch will be a huge help if you're navigating old-school. Some people worry that their bags might fly off when rolling down the highway at high speeds but the magnets used for these things are very strong. If you still feel uncomfortable about it, most models will have a strap that you can secure to your steering head. Personally, I've never had a magnetic tank bag become detached.
What you want to look for
With the right size bag you can store everything you need for a short trip. In my experience, medium-sized bags will work best on long trips (and short trips too if you're a light packer). The benefits of having an easily detachable magnetic tank bag is that you can take it with you when you stop for lunch or bathroom breaks on the road. They don't offer much security so it's helpful to have this feature. Large tank bags may interfere with how you handle your bike and that's never a good thing. Additionally, having a larger tank bag will make you more inclined to load it up with extra gear which will give your bike a top-heavy profile and affect how you take turns. It shouldn't be big enough that it gets in your way.
One important thing to keep in mind is to make sure the zippers have large pull tabs. You're going to want to quickly open and close your bag with gloves on. You don't want to have to take your gloves off to rearrange your map when riding in Alaska. Another great feature for tank bags is that many of them will have a clear plastic pouch to store maps, cell phones, or small tablets, all of which are incredible aids in navigation.
It goes without saying that if your bike has an aluminum or plastic gas tank, you're going to need a strap-type tank bag.
The following magnetic tank bags for motorcycles meet the previous requirements and have a few extra features:
.:. Rapid Transit Recon 19 Magnetic Tank Bag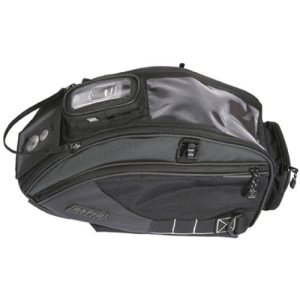 Pros: Lower price tag, more pockets, very strong magnets, included rain cover, converts to backpack.
Cons: Cell phone pouch isn't helpful, zipper construction could be better, map window is angled away from you.
Price: $76.96
The Rapid Transit Recon 19 is a great tank bag. Despite being the smallest of the three, it's capacity is surprising. It will store a lot more than you think and will maintain its shape even when empty. It attaches very firmly to your bike, and while its zippers are somewhat smaller than I'd like, they have lengthier nylon pulltabs. It is made of water resistant 1000D nylon and the contact surface is made of a rubberized Scratchguard material to protect the paint on your tank. The specs on this bag say that it is hydration-ready. This means that it has a port through which you can run your hydration tube and clip it to the side of the bag. I liked that feature. Some people underestimate proper hydration while on the road.
The included rain cover is a nice touch and essential when going through anything heavier than a drizzle. It fits well and didn't let any water through. The backpack straps also make it a versatile bag but I would've liked to see a grip handle.
My major gripe with this bag is the zipper quality. It doesn't feel as sturdy as the other models and the top zippers that open the main compartment are a bit awkward to handle until you get used to it. The map window is too narrow to place a neatly folded map but should be fine if you're navigating with a phone as you will still be able to interact with it through the plastic. Another issue is that the map window is angled away from you and the top part of it is more likely to point towards your handlebar. Finally, the phone pouch in the middle is a bit ridiculous as it seems to be designed for old Nokias and flip phones. It's pretty hard to get a smartphone in there.
Summary: The Rapid Transit Recon 19 is the best bag you can get if you're looking for something on the cheaper end. It will provide ample storage for your essentials and has a few extra conveniences. The map window won't help  you very much with navigation unless you're using a smartphone. I'd recommend this bag for beginners and those who can't afford some of the higher end bags but seasoned motorcycle travelers will want something better. You can purchase the Rapid Transit Recon 19 here.
.:. Firstgear Onyx Expandable Magnetic Tank Bag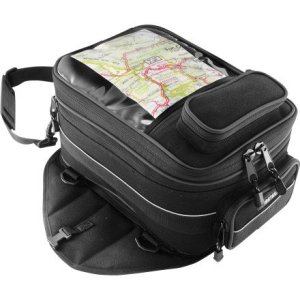 Pros: Spacious and expandable, large map window, mount base can double as a map holder, included rain cover, converts to backpack.
Cons: Zipper to map window is a bit hard to get to, no carrying handle, boxy design.
Price: $98.95
I wasn't too tempted to review the Firstgear Onyx Expandable Tank Bag as it lacked the sleek aerodynamic design but I'm glad I gave it a try. While not as "cool" as its competition, this tank bag puts function before style. It is made of RaodTex 1000D nylon with a PVC coating and UV protection. Its sides are lined with a reflective strip. The bottom is a non-slip material and has some heavy duty magnets to keep it in place. As with the other models listed here, it includes a rain cover and backpack straps, as well as a shoulder strap. The inside is lined with flannel and it has an organizing mesh compartment as well as some pen holders on the inside of the lid. The zippers are nice and big and the bag is easy to open and close with gloved hands. The large map window is a nice plus. Did I mention that this thing is expandable? It feels like it almost doubles in size!
What I didn't like about this bag is that the map window is hard to get to. The designers placed the zipper right above the glasses pouch instead of to the side and this makes getting this in and out of the map compartment very complicated because the space in there is tight as well. You might end up damaging your maps if you have to refold them too much.
Summary: Not a lot to complain about with this bag. It is really well-made and gets to the basics of what a tank bag is supposed to be: a convenient storage location for items you'll frequently need. In terms of price, it lies between both of these models and you can't go wrong with picking one of these up. You can buy the Firstgear Onyx Expandable Tank Bag here.
.:. Cortech Super 2.0 18-Liter Magnetic Tank Bag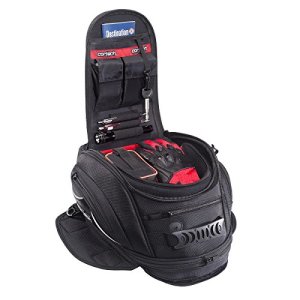 Pros: Organizing pouches in main compartment, wide carrying handle, detachable map window, expandable, rain cover has transparent window, converts to backpack.
Cons: Small map window, pricey.
Price: $125.99
This tank has got it all. It has a beautiful design, a very strong construction, and all the bells and whistles you could want in a bag. The guys who designed this really paid attention to what riders want and need. It is built out of 1680 denier ballistic polyester and also has reflective piping and details along the sides. The base is a non-scratch, non-slip diamond pattern design that holds really steady. The zippers all have zipper garages at the ends so you can tuck them in neatly. While this doesn't seem like a particularly useful feature, you'll thanking me when you don't have to listen to clinking zipper tabs for hours. It also has the sip tube and headphone ports and like the others sports hideaway backpack straps.
Some of the cooler features on this bag are that is is also expandable and has a very comfortable grip handle for carrying around if you don't want to bust out the backpack straps. What sets is apart is that the map window is detachable, allowing you to take with you in case you want to ask for directions. On top of that, the Cortech Super 2.0 sports a rain cover with a transparent top so you can still take a look at your map or devices without having to worry about them getting wet. The inside even has a compression strap to keep loose items secure.
The only complaints with this one is that the map window is rather small and those opting to use paper maps will have to fold them very tightly to get them in. Another issue is that the bag feels a bit unstable if packed to the brim when in the expanded mode. I wouldn't recommend overstuffing this pack. The price is also a bit steep.
Summary: If you it falls within your budget, this is the absolute best tank bag to get. It doesn't get much better than the Cortech Super 2.0. It excels in its design and has enough space to store everything you'd need and then some. Its superb construction will make this pack a keeper for years to come so consider it an investment for your motorcycle adventures. You can pick up the Cortech Super 2.0 18-Liter Tank Bag here. It comes in both magnetic and strap-mounted versions!