Touring South America: Stretching the Days in Iquique
Chapter 8: April 4th, Iquique, Chile.
Iquique, Land of Sun and Sea. Unexpectedly gorgeous and a tremendous source of fun times. If I had thought before that Arica was a good place to relax in, Iquique was the non plus ultra.
Shortly after arriving I met up with Emily, a friend I made back in Nazca. I was exhausted from having been riding all day and then getting lost in the city but she managed to convince me to come down and have some drinks with the fellow hostel-dwellers.
Emily had become my pseudo travel companion. We met in Nazca and when she arrived in Arica, she recommended the Surfhouse Hostel where I ended up staying. We hung out for a day and then she left for Iquique. It's incredibly helpful to have someone give you live recommendations and even book rooms in advance, but by far the biggest benefit was arriving someplace new and immediately seeing a familiar face.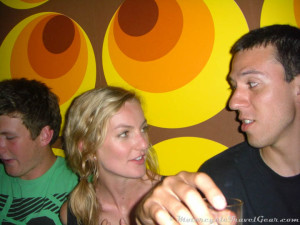 With every passing hour in Iquique it became harder to leave. Every day I met more people. They poured in from all over and were headed to all over as well. People from Norway, Netherlands, UK, Australia, USA, Germany, Taiwan, Uruguay, Brazil, Finland, etc. They came, they stayed for as little as one night, and you had a new friend. All you needed to do was share an experience. Something as simple having a drink or as complex as confiding intimate secrets with a stranger just to take the load off. All these actions create bonds between people, and it's these same bonds that tie you down to where you are.
That's how my plan to stay one night in Iquique fell apart and stretched into three.
Day 1
The first night was relatively quiet. Almost introductory. A group of four people had taken to the patio to share some drinks. Little by little, more people joined the table and followed the unspoken rules: you take a seat, you put your bottle of rum/gin/vodka on the center of the table, and introduce yourself. Easy.
It is in these conversations where you learn about others' trajectories and their future destinations. The drinking table is the essential nexus where useful travel information is exchanged. Which places are worth visiting. Which places aren't. What you can do to save time or money. Among the valuable tips proffered by the hive-mind of travelers were:
Taking a tour around the Salar de Uyuni in Bolivia is best done if you take the 4-5 day option leaving from Tupiza instead of Uyuni itself. You see much more.
One of the most beautiful places to visit in the south of Chile is Cerro Castillo.
People speak Portuguese in Brazil.
That last piece of information caught a few Brits by surprise.
As the night progressed I was all for keeping the party going by heading to the local bars but by the time everyone settled on where to go, half the people were too tired to keep partying. A few brave souls decided to go nonetheless. I was not among them.
Day 2
The second day was the most relaxing. I spent the morning laying down on the sand while eating a bunch of enormous apples. How did I like them apples? I liked them just fine. The sun was beating down but knowing about the existence of the Humboldt Current, it was no surprise that the water in Iquique was much, much colder than that of the beaches in Peru. I did not venture in.
In the afternoon, two KLR 650s arrived. Their owners, Steve and Marco (an American and an Ecuadorian), had been traveling together for some time and were heading north. They would go their separate ways in Peru. That night we talked about motorcycles more than I had in a very long time. We were also joined by Jeremy, a BMW-riding Canadian that had been at the hostel for nearly a week. He had liked it so much that he made the decision to stay for two months. He was so set on staying there that he had even bought himself some paragliding equipment that he used every day to launch himself off the cliffs overlooking the city and land in the beach.
Jeremy helped Steve fix some parts on his bike that had become loose and damaged during their crossing of San Pedro de Atacama. After his steering was back in alignment, we spent the rest of the night emptying bottles of wine and talking about bikes, routes, and adventures. They told me that my motorcycle shouldn't have any trouble crossing the "Death Road" in Bolivia but that I should be very careful with the crosswinds in the Patagonia. They were much more fierce than anything I had experienced up to that point, but at least the winds wouldn't be loaded with sand. Marco put me in touch with Fernando, another Peruvian moto traveler that was also making his way to Ushuaia. He had had some setbacks with his motorcycle but was making his way south and with proper timing we would be able to meet up in Mendoza.
Not everything was about getting drunk and going out dancing all night, even though the pictures suggest otherwise:
Don't be fooled by the glamorous photos. Apart from partying we also needed to eat to survive. Some went to restaurants, some scraped together leftovers from their friends, and the rest cooked. After receiving complaints and concerned remarks about the contents of my meals (mostly consisting of microwaved supplies), I started cooking under the watchful eye of my British friend. That night I stir fried some onions and peppers for the first time and made some delicious fajitas. My mom would be proud.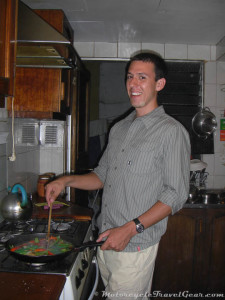 Day 3
The morning of April 4th arrived and I woke up feeling well-rested, despite a plot conjured by some of the British guys to get me drunk and oversleep, thereby missing my window to leave on time. I managed to get some breakfast and pack everything back up on the bike. I said my goodbyes to the only two people that were up at that ungodly hour (10am) and had a brief chat with Emily to see where we'd cross paths again.
As I pulled away from the hostel I started to think that leaving a place is much harder when you have absolute freedom to do so. Many of the people there had to stick to trip itineraries to continue their journeys. Others were a bit more flexible but were still subject to schedules imposed by flights or bus departures. When you're traveling by your own means, the act of leaving is completely voluntary. It's a decision you make entirely of your own free will and nothing else.
It's sad to make a choice to leave behind what could potentially be budding friendships.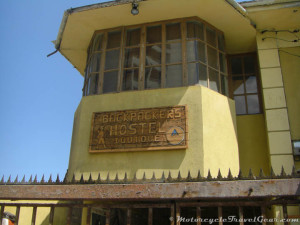 Leaving the city made me feel nostalgia almost immediately. I was abandoning my little slice of paradise. If only nostalgia had been the worst of my problems that day! Nothing could have prepared me for what was about to happen.