Touring South America: Brake repairs with the Viper
Chapter 3: March 26th, Ica, Peru.
I was in the middle of the Paracas Natural Reserve holding the broken brake handle that I had unsuccessfully tried to repair after a tumble in the sand dunes. I didn't have a spare for it with me and I knew that this particular model was hard to find. However, my best bet was to try to find some sort of replacement in Ica. I nearly tossed out the broken handle but decided to put it in my pocket just in case.
The ride to Ica was very pleasant. I didn't need the front brake except for a quick pitstop to drink water where I had to stop the motorcycle Fred Flintstone style. As soon as I entered Ica I started asking around for a place to buy a brake handle. Three stores later, I was nowhere closer to reaching my goal. My only other option was to get the broken handle welded back together, but for that I needed a special type of aluminum weld. This was apparently not that easy to find.
Asking around they told me that I could find an aluminum welder in a neighborhood called Los Patos (The Ducks). I swung by the local town plaza and asked a police officer directions for Los Patos.
You're going to Los Patos with all that stuff? No, buddy, you're not going to be able to walk out of that one.
They explained to me that it was a really dangerous area and that if I went in I'd be lucky to leave with my underwear on. In hindsight, it might be possible that the people I asked wanted to lead me there so their buddies could rob me blind. The officer continued:
I know another place where you can get that piece welded but it's not a good idea for you to go there with that motorcycle. Leave it here with me and my partner will escort you so you can be safe.
Looking back, it was incredibly naive for me to go along with this, especially knowing how corrupt the police can be in Peru. However, I felt no immediate danger or distrust at the time so I agreed.
The place we went to didn't look particularly rough. Officer Lizarzaburo asked a few people along the way for the famous aluminum welder and they told him to ask for Víbora (The Viper). As we pulled away, we heard someone say, "what's that gringo doing here?" Luckily, I had an escort. A few blocks down we found Viper and told him we had a little job for him.
Viper took the brake handle from my hands, took a quick look at it and immediately got to work. There were some issues at first. The weld wasn't fusing to the piece because some idiot had covered the brake handle with rubber cement (oops), but he ended up doing a fantastic job.
On the ride back, I learned a bit about the sting operations that take place in the city of Ica. These are things I can't reveal due to the sensitive nature of the matter (and because I've forgotten most of them over time), but I remember feeling enormous respect for the Police there. It truly felt like they were fighting to keep all of us safe. I was left with admiration for the help they gave me which was well beyond their duties. After I reinstalled my brake handle I expressed my deepest gratitude and continued on my way.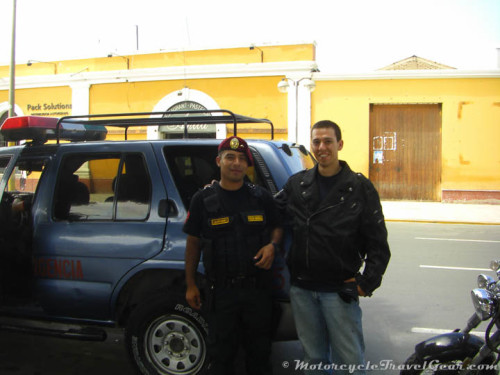 The terrain changed drastically after leaving Ica. What was once a valley full of vineyards was now the textbook definition of a desert. The ambient heat was on the rise but my jacket's vent system did really well at keeping me cool.
Just before reaching the town of Palpa two other motorcyclists loaded with gear zoomed past me. More moto-adventurers. They gave me a thumbs up and sped off. I tried to catch up to them but they were on a couple of KLR 650s and my 200cc Chinese chopper couldn't keep up. Fortunately I bumped into them further down the trail when they stopped for a drink. I pulled over and talked to them for a bit. They were two Americans that had been traveling down south from Texas. Their next destination was Cuzco. I lost the piece of paper where they wrote down their info but if they ever read this, I wished you guys the best of luck.
I kept heading south through the desert landscape and knew I was close to my next stop when I found myself in the plains where the Nazca Lines are carved into the earth. I felt the sudden urge to call someone and let them know I was witnessing the Nazca Lines from my motorcycle. They'd probably tell me that they were stuck in their cubicle under a fluorescent light. My hopes were dashed when I saw that I didn't have a signal.
My consolation prize was that I'd get to sleep in an actual bed that night. The friendly staff at the cleverly named Walk On Inn in Nazca let me park my bike in their patio. They're just a couple of blocks from the main plaza. Close enough to the party, but far enough from the noise. An excellent budget hostel. Even though the hot water was inexplicably impossible to turn off (hot shower in the desert heat? No thanks), I recommend the place.